I had to wait and write this blog post when my mind was in a good place :)
Well, we are puppy parents! We brought Piper home on Friday night, at 4 weeks and 6 days old. Obviously, that is significantly younger than most puppies come home and much younger than they should. But, as I explained in my previous post about her, there was a reason! Due to the crazy situation with her foster family, this was the best time to get her.
However, that means what feels like quadruple the work for C and me! According to one of the puppy books we have, a 5 week old puppy is the equivalent of an 18 month old human, developmentally. An 8 week old puppy is equivalent to a 3 year old human. Now, I don't have kids of my own, but I babysat in my past and I have seen the difference between 18 months and 3 years!
After the first night, during which Piper cried for a solid hour and a half, and C and I struggled to stay in bed until she stopped crying so we could take her out, I was in a pretty questionable place. Some of you may remember my
first foray into dog ownership
over 2 years ago, which was not so successful. After that night, I was not sure this foray into dog ownership was going to be any more successful. However, this time I have C on my side :)
As any of you who have raised a puppy may know, it is a LOT of work. I went from living with my brother, with no job, coming and going whenever I felt like it. In one day, I moved in with C and got a puppy. C left on Monday for a 4 day TDY, and it has been a bit of a tough time.
I told my friend Dani that I have been having the most ridiculous mood swings in relation to Piper. Sometimes, I think I can't survive being tied to a dependent little being! At other times, I think of all the adult dogs I have been around, including our family Beagle and English Cocker Spaniel, and think of what great company Piper will be with C being out of town so often.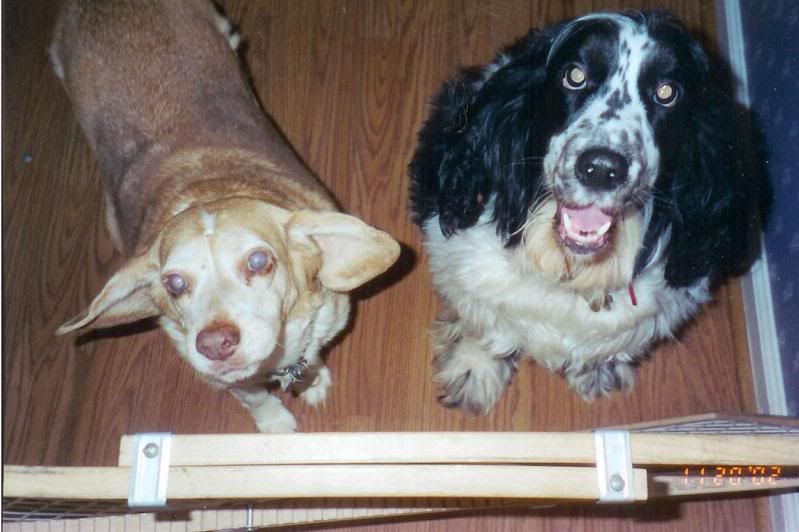 Taffy and Freckles
What I apparently choose to forget is that Freckles, our spaniel, was so terrible as a puppy (and up until about 2 years old) that my grandma kept threatening to send her away to a farm. Or that our beagle, Taffy, was also pretty damn close to going back to the breeder she came from because my parents were so frustrated in her training.
Since C is out of town this week, I had to figure out how to keep my sanity. I was pretty bummed out with the puppy blues lol, and then I went to Subway for dinner for just about 40 minutes, and it gave me a lot of perspective when I came back. Nothing catastrophic happened while I was gone, and I'm not even sure Piper really noticed I was gone! So for the rest of the week, I am going to try and get out for half an hour or so around lunch and around dinner.
And, to give mad props to our crazy smart dog, she is AMAZING in her crate. She goes in with no problems when she is sleepy, so getting her to sleep is a total breeze! And she is already learning that if she cries, we don't let her out. For the last two nights, she has let out one or two whimpers when she wakes up and needs to go out, enough that I hear her but not so much that she is really crying.
In a couple weeks, her bladder size will increase and life will be a whole lot prettier :)
And at the end of the day, who can resist this?!?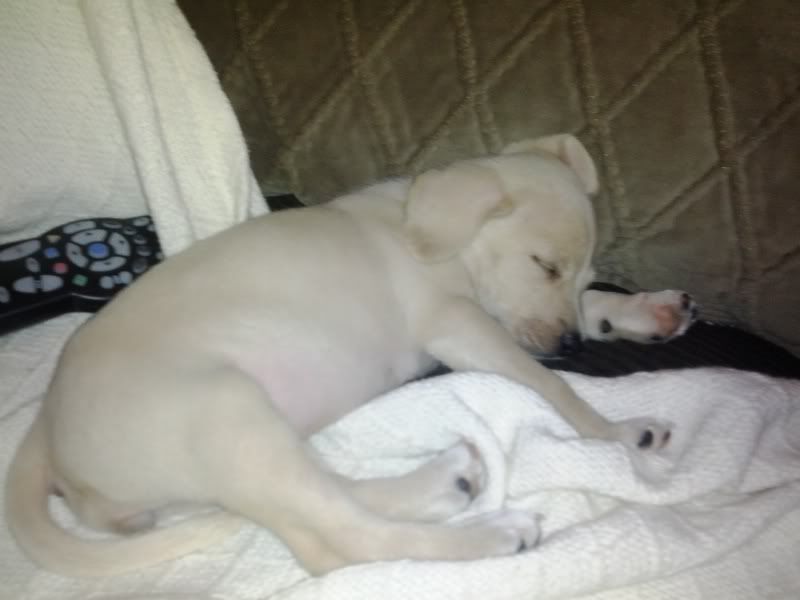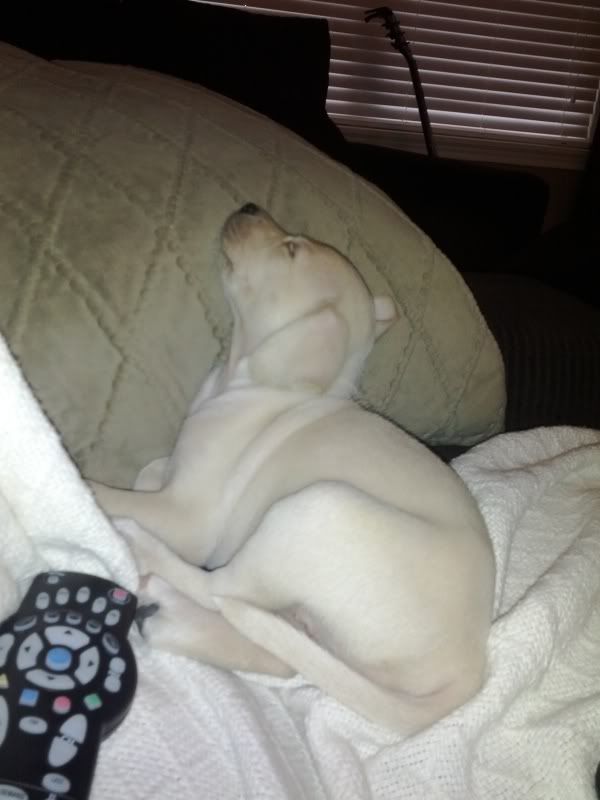 Wish us luck!