C and I had the pleasure of attending the OKC Memorial Marathon/Half Marathon/5k running event this weekend. This specific race is a memorial event in memory of the Oklahoma City bombing on April 19, 1995.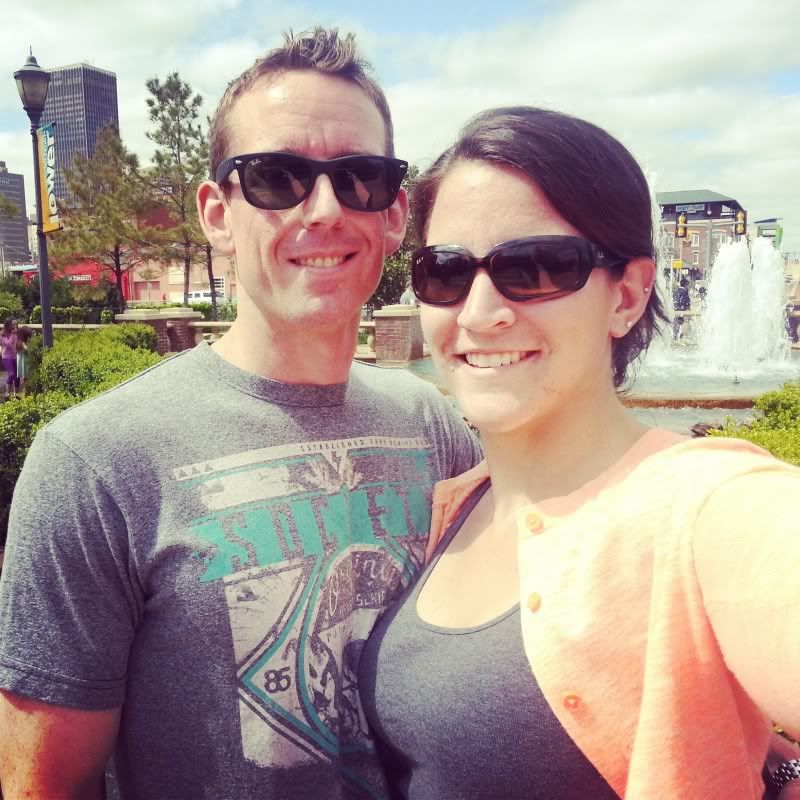 we got to hang out in OKC, which is a cool town! And C finally got to show off HIS hometown, Midwest City! (we spend a lot of time wandering my old stomping in grounds in Baltimore)
C has been training for this half marathon since February, and when a friend suggested the OKC Memorial run as his first race, he was super excited. C spent a good portion of his life in the suburbs of Oklahoma City, and he and his family lived there in 1995 when the Murrah Federal Building was bombed. This race took on some extra meaning for him, and it was an awesome race to be a part of.
He decided to train specifically for it about 8 weeks ago, and there was no reasonable way I could train up to a half marathon before then, so I decided to do the 5k instead. It was a nice race, a little hilly at parts, but a good motivator to get me refocused on my running.
We have decided we want to do the Air Force Marathon in September, 2 weeks after the wedding. C wants to train up to a full 26.2, and I am going to plan for the half. We are recruiting friends and family members as we speak - all are welcome!
My amazing other half finished under his goal pace! He hit the finish line 1:36:12 after he started! That averages out close to a 7:18 pace!
In other news, we have decided to whiten our teeth for the wedding. Me, because I'm vain. Him, because he is vain and a heavy coffee drinker. We ordered a set our friend recommended off of Amazon (Crest White Professional Effects something something something). We wear them for 30 minutes a day for 20 days. We are, at this very moment, enduring session one. My teeth and gums are tingling a little bit, and I suck at having things stuck to my teeth like this, but 30 minutes is nothing if we get bright shiny smiles!
Hope everyone had a great weekend! My pup is PASSED OUT after hanging out with friends this weekend while we were gone, and I am basking in that by watching the Amazing Race and lounging on the couch, dreaming about being on this show. Who's with me?