It wasn't pretty, but it happened!
Let's take a step back and remember that I am a failure at training, so my longest run to date prior to the half marathon was 8 miles. And I did that one time. On the morning of my wedding. When I was pumping lots of adrenaline.
Otherwise, I made it to 7 miles one time and every other run I have ever done has been shorter than that. So I went into the half marathon thinking realistically, I am not going to be able to run the whole thing.
However, you have to keep in mind my running buddies......two of the most amazing women I know, that I now get to call family. Donna and Sierra had faced setbacks in their training as well, but had powered through. As of their last long run, they were at 10 miles. They were confident. So I was counting on them to be confident enough for me :)
I flew out on Friday evening after work. I had dropped Collin off at the airport on Friday morning, but I couldn't take more time off from work, so I planned to take the last flight out of Abilene that night. Bad idea. I know it's a bad idea to take the last flight, but for some reason I did it anyway. Whenever I take the last flight of the day, things inevitably go wrong. The problem with that is that there are not any more flights that day to fix the issue, so you are typically screwed until the next day.
So of course, weather comes through and flights are delayed. My flight out of Abilene left an hour late, so I was guaranteed to miss my connection. I could have still TRIED to make it, but considering the weather issues, I was better off booking another flight and confirming a seat on it. Except the flight I was on was the last flight to Dayton that night. So here I am, still in Abilene, without many options to get me to Dayton.
And then comes my new best friend, Sam. When I checked in, she heard me talking and said "Oh I'm going to Dayton too!" Turns out, her flights got messed up and she was actually flying to Columbus, OH, and driving to Dayton (about an hour). I approached her, asked if I could split costs and drive with her, and booked my flight to Columbus. Otherwise, there was no way I was getting to the race.
Fast forward several hours----Sam drops me off at my hotel at 1:30 am, and all I had eaten in the last 10-12 hours was the bun off a Sonic sandwich (the chicken tasted like rubber, and had the consistency of it too), a bag of mini pretzels, and a small bag of beef jerky. Talk about great pre-race prep, right?? Collin sleepily let me into the hotel room and informed me we were meeting his family downstairs at 5:30. By the time I fell asleep, I think ended up with about 3 hours of very crappy sleep.
But the show must go on. So at 5:15, I got up and donned my race gear, grabbed my bib, and headed out the door. Luckily, since we still had 3 hours until the half marathon started, I was able to actually eat breakfast. Typically, I don't like to eat too close to my runs because it never ends well for me.
Curt dropped us off at the shuttle buses that would take runners to the starting line. Considering the earliest any of us would finish was going to be about 10:30 am, he headed back to the hotel to kill some time. Sierra's fiance was also at the hotel, so they were going to come watch us finish later.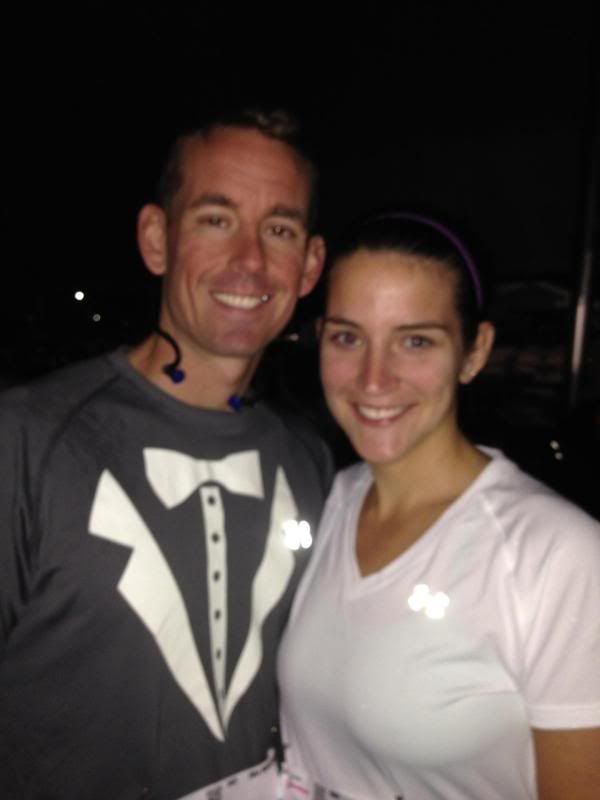 pre-race!
Oh did I forget to mention------it was raining. The 5k Curt was going to run got rained out on Friday night, and it was raining steadily as we left the hotel, got to the shuttle, and wandered to the tents around the starting line. It kept raining until a few minutes before the marathon started at 7:30. Collin took off on his run and Donna, Sierra, and I stood around nervously for another hour. We found our pacer, who was hilarious and called himself Pacer Chaser, and was keeping the pace for a 2:45 finish. We decided to start there.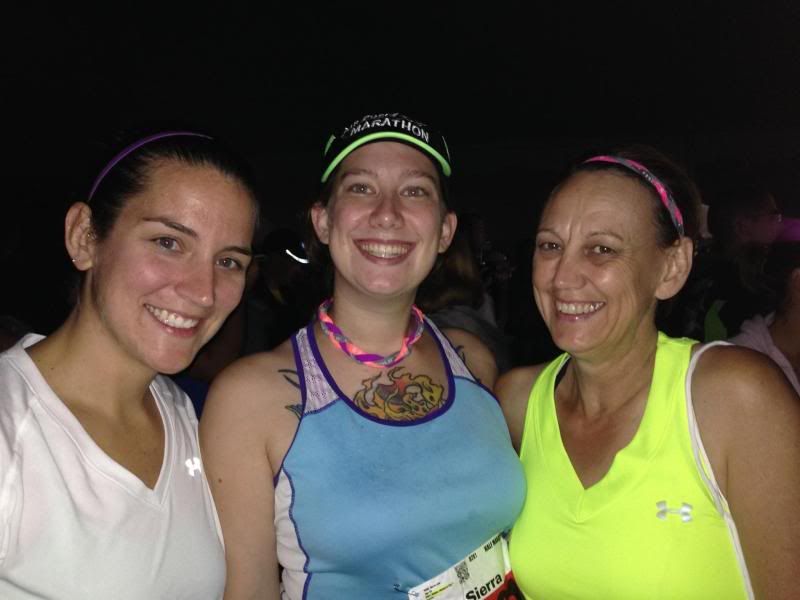 Within the first mile, Donna and Sierra started picking up the pace. I was content to stay with Pacer Chaser, but they wouldn't let me fall back lol. Until about mile 5, we stuck together. Right around 5 miles, my hip started to hurt. I started falling back, and Donna fell back to join me. Sierra kept getting farther and farther ahead of us, and I kept getting slower, but Donna stuck with me. We pushed through the next 4 miles, but when we hit 9 miles, I knew there was not much of a chance I would close the gap. My body was seriously hurting. So I encourage Donna to try to close the gap with Sierra-----they had trained together and I know they wanted to run together. Donna is also super encouraging, and I didn't want to deprive Sierra of that.
So from mile 9 on, I ran solo. I am used to running alone, so it wasn't a big deal for me. However, with each step after mile 10, my entire body ached. Each step was jarring and hurt my hips, knees, lower back, and feet. I kept telling myself to just keep moving, that I was almost there. My Garmin watch had crapped out on me right before the race (I don't think I charged it woops!), so my only concept of distance was when I hit another mile flag. So I kept aiming for those flags.
Unfortunately, at 11.7 miles I stopped running. I know it was 11.7 because there was an Air Force guy on the side calling "Half Marathon 11.7, Full Marathon 24.8" every couple seconds. By that point, I was near tears, whimpering to myself with every step. When I realized I wasn't as close to 12 miles as I thought I was, I knew I had to stop and try and stretch out so that I could finish the rest running. I stood to the side of the trail for about 5 minutes, stretching my legs and talking myself down from my extreme disappointment in myself.
I know I didn't train appropriately, and had a terrible day and night of sleep, but I was a little heart broken that I was at my first half marathon and I hadn't run the whole thing. I know plenty of people go into races like this intending to walk and run. But my goal was to run my entire first half marathon. I was also coaxing myself along the whole time thinking about how proud my husband was going to be of me when I crossed the finish line and told him I ran the whole time. That is what had kept me going as long as I did, so it took me a couple minutes to calm myself down.
I started walking at that point, and every step was jarring and painful. I normally walk at a fast pace, but I was trudging along. It was miserable.
I walked, total, about 1/2 of a mile. I didn't want to totally kill my time by just standing on the side of the trail, so I decided to walk off some of my aches and pains. For the last .4 or so, there were people along the edge cheering, which helped motivate me to keep moving. Once I rounded the last corner and hit the 26 mark for the marathoners, I knew I only had .2 left and was determined to not stop moving. At the 13 mile mark, I saw Collin and Curt. Collin flashed me a big smile and I think that gave me one final boost........I "sprinted" (for me) to the finish line. At that point, I also saw the clock time, which was just under 2:59:30......I knew my chip time was at least 5 minutes behind the clock time, but I was still determined to be finished under 3 hours. When I crossed the finish line, the clock said 2:59:40.
My official time was 2:53:48. Despite my disappointment that I walked for .5 mile, I am seriously so proud of myself. I am so excited that I did a half marathon, and that I did 96% of it at a jogging pace.
after the madness was over!
Saturday afternoon was ROUGH because Collin and I were both in serious pain. Walking was HARD. The family left after we all ate lunch, but we weren't flying out until Sunday morning. All afternoon and evening Saturday, we tried to confine ourselves to the bed or sofa in our room reading lol. We had to walk to dinner which was like 1/10th of a mile and brutal. Navigating the airports was also a form of torture. But now that I'm a few days out and feeling better, I am already planning my next half! I am determined to do the ENTIRE thing at a run next time! I would also love to do it much closer to 2.5 hours next time.
In case you were wondering, Donna did catch up with Sierra and finished in 2:40:55. Sierra finished in 2:41:24. I am so amazed by both of them! Collin did the FULL marathon and finished in an amazing 3:23:09 (yes, it only took him 30 minutes longer than me to run twice the distance :P)
I'll also add that I LOVE getting to do things with our family :) Sierra and Donna are already talking Full Marathon, and Collin agreed to do another one with them. I have negative interest in a full, but I absolutely will do another half! And Collin and I are in the process of bike shopping so we can start Triathlon training!